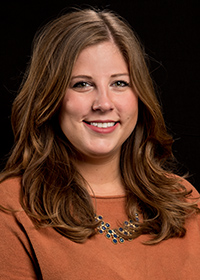 LINDSAY (SNYDER) GREGORY, CMP-HC
Vice President of Client Operations
Lindsay Gregory began her career at the Gaylord Opryland Resort & Convention Center as a Convention Services Leader-in-Training, where she gained in-depth knowledge of the Convention Services division by rotating through twelve operational departments. After the 10-month training program commenced, Lindsay joined the Conference Coordinator team as an operational leader that ensured client expectations set in the planning process aligned with on-site delivery by executing client programs and resolving potential challenges. Lindsay's success led her to a conference planning role, where she spent her remaining time at Gaylord Opryland Resort & Convention Center as an Executive Meetings Manager, before excelling to a Catering Manager where she managed and coordinated Catering and Convention Services activities for up to 24 groups annually with up to 4,000 attendees and $1.6 Million in food and beverage revenue per group.
In 2015, Lindsay joined Parthenon Management Group as a Project Manager with the American Society of Clinical Psychopharmacology (ASCP). Lindsay's expertise in catered operations and strategic conference planning brings a unique skillset to PMG's Project Management team as well as builds collaboration between the Association Management and Meetings Management departments. Lindsay now serves as the Vice President of Client Operations where she oversees all facets for multiple medical professional societies, including committee actions, governance, financial performance, accreditation, membership, marketing, meetings/events and educational activities.
Lindsay currently serves as a member of the Tennessee Chapter of the Meeting Professionals International and the American Society of Association Executives. Lindsay also volunteers her time on the Education Committee of the Tennessee Society of Association Executives to identify topics and select speakers for education programs, serve as hosts/hostess for out-of-town speakers and assist in developing non-traditional education opportunities for members. Lindsay has earned certification as a Certified Meeting Professional with the Events Industry Council.