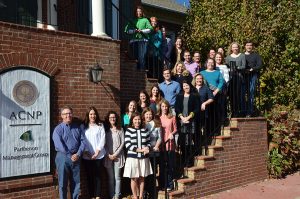 This has been yet another exciting year for PMG.  We continue to see a steady growth in our organization and this growth is not from a masterful marketing plan, but from the excellent service each of our staff members provide to our clients.  In 2008, PMG began with one client with 600 members.  Today, our family of organizations represents over 10,800 members in fields with goals and missions that we find very important.  This year alone, PMG supported meetings for over 9000 attendees.  We believe that if we can be consistently engaged in helping our clients to achieve their mission and purpose through the work they do, then our success as a company will follow.  Doing that takes exceptional people.  I know I have a conflict of interest here, but I believe the people who make up PMG are truly some of the best association managers and people in the world.
With PMG's growth, we added several new staff.  Each of these individuals have excelled and become very important people to our team.   In January, with the addition of the American Board of Pediatric Dentistry, we added Christine Sharp and Jasey Bratek.  Christine serves as the ABPD Chief Operating Officer and Jasey serves as the Chief Assessment Officer.  Erin Shaw also joined our team as the new Lead Member Services Manager for the American College of Neuropsychopharmacology.  Sheena Di Giorgio joined the team as the Organization of Teratology Information Specialist Grant Administrator in February.  July brought PMG the addition of the American Psychosocial Oncology Society and more great talent.  Dawn Keglor joined us as their Project Manager.  Additionally, we gained Tori Swinehart as a Meetings Content Manager.  We continued to grow and expand as the year went on with Laura Laughlin joining in September as a Member Services Manager.
In addition to our great new hires, we have had a number of celebrations this year.  Kelly Phy was awarded her CMP (Certified Meeting Professional) designation this summer.  We also had two marriages this year!  Jasey Bratek was married in February and Laura Reynolds in October.
PMG is a fortunate company.  We are heading into 2017 with a great team to serve our clients and further develop their missions.  And I am perhaps the most fortunate of all association executives.  I get to work with this group of extremely talented and wonderful people.  We don't do New Year Resolutions here at PMG because our goal is to always be excellent, and that doesn't change with the coming of a New Year.  But, if I were going to state one goal in 2017 for myself, it would be to be the kind of leader that our staff and our clients deserve.
– Sarah Timm, CEO