As I sat down to write this blog, the first ever Stanley Cup playoff game in Nashville was playing in the background.  The fans are excited, the players have taken all necessary steps for perfecting their performance and the media is watching their every move. This got me thinking about how many similarities there are in managing a journal and the process of reaching other goals in life.  Whether it be competing in the finals for sports, on-stage performances or even completing your final exam of the school year, there are many steps leading up to a successful performance.
In managing a journal, we take many steps each month to ensure we have a successful issue for our readers.  Just like athletes practice daily to improve their performance, we work with authors on a daily basis to perfect the final version of their manuscripts.  Our team ensures the papers are consistent in formatting, editors work as coaches with the authors through revisions of their original work and collectively we work with our publisher for a final review of each manuscript.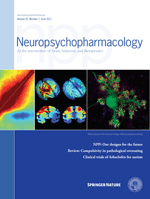 Just as coaches create a roster for their game lineup, our editor creates a lineup for each issue.  There is a purpose, discussion, and creativity shared amongst the team when preparing each issue.  Just recently, the Neuropsychopharmacology changed their "look" of the cover and we continuously work to explore options to promote and improve each issue.
As in most highly visible sporting events, the media plays an important role in promoting the event.  We use social media to promote our papers, as well as generate Podcasts to highlight current hot topics within the field of neuropsychopharmacology.
The readers (our fans) are also very supportive of our journal and many of them help in the success of each issue by contributing their knowledge and hard work through their submissions.  With all success stories, there are multiple obstacles to overcome, records to be broken and history to be made.  Thank you to all the contributors that make Neuropsychopharmacology a success!
-Lori Kunath (Editorial Assistant-American College of Neuropsychopharmacology)